At 5'2, Jerome Bloom doesn't immediately look like a world record holding strongman. But this modern day Mighty Atom, holds so many world records that we couldn't list them all and keep this article under the word count limit! After a back injury derailed his powerlifting career, Jerome set his sights on becoming a grip sport specialist and incidentally became British Novice Arm Wrestling champion along the way! Let's catch up with Jerome Bloom and see what he has his sights set on next!
I see that you're big fan of using bands to improve your grip. Performing strongman, Jeff Bankens, made a similar recommendation when I interviewed him. He says he likes to do 100 repetitions per hand during his commute. How do you prefer to implement them into your training plan?
I use Charity Bracelets. These are rubber bands of varying strength.  Usually I do hand extensions with one or two bands at a time for no more than 20 reps in each set, however I do not usually count;  rather I do as many reps as are comfortable. I do this either to help with rehabilitation one or two days after heavy exercise or a day before heavy Hub Lifts (such as Shallow Hub or IM Hub).
What are your best lifts including your official records?
Most of my official records are at David Horne's gripmaster.com but I also hold records for the Bullring Hub Lift,  the Dube Cube Quarter and the Dube Cube Bearing.
What about your in the gym achievements?
Grip-topz Half Penny one hand Key-style lift 46.3lb (21kg).
Grip-topz Half Penny one hand Key-style Hold 44.09lb (20kg) for 6.5 seconds.
Grip-topz Half Penny Double Pinch Lift 60.85lb (27.6kg).
IronMind Hub Lift (full height) 79.59lb (36.1kg).
IronMind Hub Hold 75lb (34kg) for 7.5 seconds.
Grip-topz Shallow Hub 50.26lb (22.8kg).
Grip-topz Shallow Hub Hold 46.3lb (21kg) for 10 seconds.
Grip-topz Shallow Hub Double Key Pinch Lift 99.43lb (45.1kg).
Grip-topz Shallow Hub Double Key Pinch Hold of 80.03lb (36.3kg) for 27 seconds.
Grip-topz Stub Lift 45.64lb (20.7kg).
Grip-topz Stub Hold 41.89lb (19kg) for 11 seconds.
Dube Cube Quarter Lift 37.7lb (17.1kg).
Dube Cube Bearing Lift 37.3lb (16.9kg).
Mammoth Coin Lift 66lb (29.9kg).
Grip-topz Gold Bar Lift 63.93lb (29kg).
4″ Bullring Hub Lift 53.2lb (24.1kg).
4″ Bullring Hub 40lb Hold of 19 seconds.
Adjustable Thick Bar One Hand Lift 264.86lb (120.14kg).
50mm Silarukov Pinch Block Single Hand Lift 90.83lb (41.2kg).
50mm Silarukov Pinch Block Double Pinch Hold of 187.39lb (85kg) for 6.5 seconds.
Grip-topz Moon Top Lift 42.11lb (19.1kg).
Grip-topz Moon Top Hold of 33.29lb (15.1kg) for 16 seconds.
World of Grip Training Penny Lift of 55.3lb (25.1kg).
Euro-pinch One Hand Lift of 78.7lb (35.7kg).
Minotaurs Half Dollar Curl of 48.7lb (22.1kg).
You've got a ton of accomplishments in your career! When was the last time anyone had to open a jar for you?
The last time someone had to open a jar for me would have been my wife two months ago when I was recovering from having three ribs removed. Otherwise, before September of 2017 it would have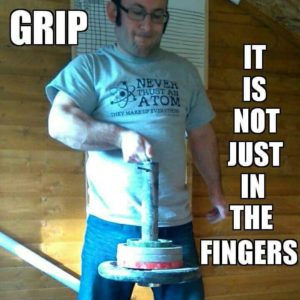 been way back in about 1990!
Ha!  Hopefully you don't tighten jars on purpose so she can't  open them herself! So what are you most motivated to cross off of your bucket list next?
Achievements for my Bucket List would be to lift 55lb with the Grip-topz Half Penny and to Hold other long lasting World Records for all bodyweight classes.  I am a lightweight at well under 150lb with small hands (6.5″ long) and a small stature (5′ 2″ tall) so any records that beat the Heavyweights would be a major achievement.
I have to ask this for our readers who compete in powerlifting: what do you recommend to improve the double overhand deadlift? I know that DO Axle Deadlifts are done in grip sport, having powerlifted yourself what assistance work do you recommend to build the double overhand grip?
The best training for improving Double Over Deadlift is Thumbless Axle and Rotating Thick Bar lifts for the "Back Hand" supportive strength and "Wrist Wrench" type lifts or Circus Dumbbell Lifts for the Thumb Strength.  Of course you can't beat doing the real thing so progressive "overloading" with Double Over Deadlifts would also help.
You're also a former British Novice arm-wrestling champion. Do you still compete in that sport as well or do you focus exclusively on grip?
I have had serious health problems in recent years caused by a rare bone condition which has hampered my arm-wrestling training, damaging my left arm and my ribcage.  Five months ago I had a large internal bone tumor removed along with three ribs so I will not be able to arm-wrestle competitively for some time. But I will be back!
I guess the other arm wrestlers had best beware the return of Jerome Bloom! You began to focus on grip after rupturing a disc in your spine. You physique still seems pretty stout overall. Do you still lift besides grip training?
Regarding the ruptured disc in my back (from 2011), I had to give up power lifting.  Even though my back has largely healed I am still prone to problems and as such the only lifting I do is for my Grip Training.
One thing I find appealing about grip sport is how compact your training area can be. You could conceivably train your grip in a suburban restroom if you didn't care what people would think about all of the odd noises! Where's the oddest place you've trained over the years?
The strangest place I have trained is in my Hall Cupboard.  Prior to building my current Shed I trained in the Cupboard for over a year in a space that is only 5 feet deep by 33 inches wide!
How large is the shed in which you train? How long have you trained there?
The Shed I train in is 10 feet long by 8 feet wide.  I have been training in it for about a year and a half.
I know that Jared Gougen used to arrange grip get togethers where he lives in the Pacific Northwestern United States and James Fuller told me that Jedd Johnson does the same on the East Coast. How often do you get together with other grip sport athletes?
David Horne organizes many Grip Contests around the UK, and there have also been the King Kong Grip Contests over here.  I try to go to as many competitions as I can. One year I was in 7 Grip Competitions and 3 Armwrestling Tournaments, but usually there are not that many.  I even organized my own Grip Competition two years ago with the help of David Horne.  Otherwise I try to meet up with other Grip enthusiasts at least once per week
Where do you see the future of grip sport going in the next five years?
In the next year or two there is likely to be a drop in the number of Single Location Grip Contests,  so I may have to help organize one or two events.  But it is now possible to set official records by submitting evidence directly to manufacturers.  Also, there is an increasing number of International Contests where multiple venues and multiple countries are involved.  In five years time I think there will simply be more ways for people to be involved in Grip Sport,  so although some individuals may be semi-retiring there will hopefully be more people involved generally.
I know about IronMind Enterprises' many certifications, and I believe Grip N Bend handles the Dube Cube records. What other manufacturer certifications are there?
 Grip training has some cool carryover to every day life as well. Do you find that you don't need to use a wrench as often as most people?
Ha! I often like to tighten bolts by hand, but usually have to use a spanner for the last turn!
How would you recommend that an interested beginner go about getting into grip sport?
For newcomers to Grip Sport, firstly quit spending so much time looking in the mirror and concentrate on what you can lift today and what you wish to lift tomorrow. Too many people pick up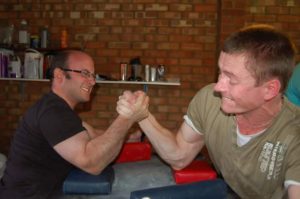 Torsion Spring Grippers in the belief that it is the key to improving all their grip requirements but the truth is that it is better to simply lift up heavy objects to strength your tendons and your supportive grip strength.
Finally I would add that you and I are unique,  as is everyone else. I am an identical twin and yet I have different abilities to my brother that have been developed over many years.  I have been training my grip for well over 20 years but I know of numerous people who have come onto the scene after no focused training and done extremely well just because of their other ocupations.  When it come to Grip Strength, train at your own pace because you are your own boss.
Would you recommend that they attend a competition first or can they get a general idea of what to expect from watching videos on YouTube or other social media?
I would definitely recommend attending Grip Contests.  They are always friendly occasions and unlike armwrestling you are very unlikely to get any injuries.
The point of YouTube and social media should be to meet people and to learn from each other, but ultimately you learn from your own experiences in training, so training is most important.  Do not idolize other people and their abilities; instead think about your own personal goals.  Eventually that may lead to great things!
I know that there are several grip sport athletes in the Strongman Archaeology Facebook group, I believe you've started a page as well, Minotaur's Grip. What other groups or pages would you recommend someone check out if they're interested in grip sport?
Facebook Groups I would recommend are
And Adam Bushaway has just started an open group called Rip Bend Crush Repeat, which I think will prove to be popular.  Otherwise I recommend that you look on Instagram and also check out Gripboard.com
How can people contact you if they have questions or want to follow your training?
The best way for people to contact me is either to message me in Instagram, @grip.craft.bloom or leave a message at my Facebook page "Minotaurs Grip Training & Armwrestling"