Why you need a Sled:
Sled dragging is a very effective option for all levels of athletes challenging your level of conditioning with minimal wear and tear on the body. (It is very easy on the knees, hips, and ankles, making it great tool for older strength athletes!) For younger athletes, it's a great way to build the lungs and legs/hips with minimal coaching. Plus it does not require the high learning curve of a squat or the deadlift. Sled workouts are quick and efficient. In less than 20 minutes, an athlete can push their way to burning lungs and legs. In my opinion, it's the bestoption for those without a bike, rower, or treadmill in their home gym arsenal.
Quick Snapshot
Build It – For as little as $15, you could have the most badass piece of conditioning at your disposal
Buy It – Rogue Fitness and EliteFTS make steel sleds for $125 + shipping but you run the risk of upsetting your neighbors with the noise of steel on pavement
MATERIALS, TOOLS & BUDGET
Used Tire = free from the local tire shop
3" Eye bolt, washer, and lock nut = $5
12' light chain (or other straps), carabineers, handles, or an old Back Pack = $10-$30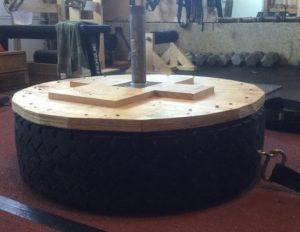 ***If you are lucky, a 45 lbs plate MAY fit on top of the DIY Tire Sled where the old rim was.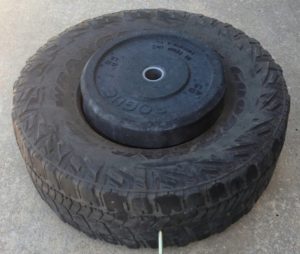 Optional for those who want to build a plywood top to secure weights:
If you're not lucky, plan on loading 25 lbs plates, or want a more secure surface for your weights, you will need to build a base with a loading pin.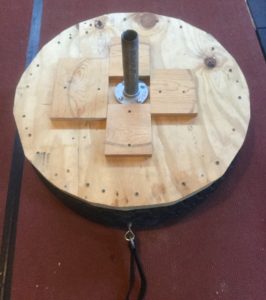 ¾" plywood
Screws
1 1/2 in. Galvanized Malleable Iron Floor Flange = $17
1 1/2 in. x 8 in. Galvanized Steel Nipple = $9
HEX Lag bolts = $1
NOTE:  Diameter of the steel MUST be based on the diameter of your plates
Power Drill
Drill Bit
Adjustable Wrench
Circular Saw or Jig Saw (for optional plywood top)
 Total Budget DIY Tire Sled 
approximately $15 – $60 based on your needs
Assembly
Drill a hole in the DIY Tire Sled for the Eye bolt
Insert the eyebolt, place the washer and lock nut on the inside of tire and tighten with Adjustable Wrench
Clip on Large carabineer to Eye bolt
Attach the chain or strap to the Large carabineer

You will need 2 lengths of chain or straps if you plan on using handles for additional upper body work
You will only need 1 length of chain or strap if you plan on using your old back pack for walking with the sled

Clip another Large carabineers to other end of the chain or straps
Attach your old back pack or handles
Optional Assembly for the Plywood Top
Place your tire on top of the plywood
Trace the plywood
Using your Circular Saw or Jig Saw, cut the plywood into a circle
Drill the plywood circle to the top of the tire
Center the flange on the plywood circle and attach with 4 lag screws
Cut scrap plywood into squares
Screw them to the plywood surrounding the flange

This will act as a stabilizer so your plates are rattling during your workout

Hand screw the nipple into the flange
DONE!