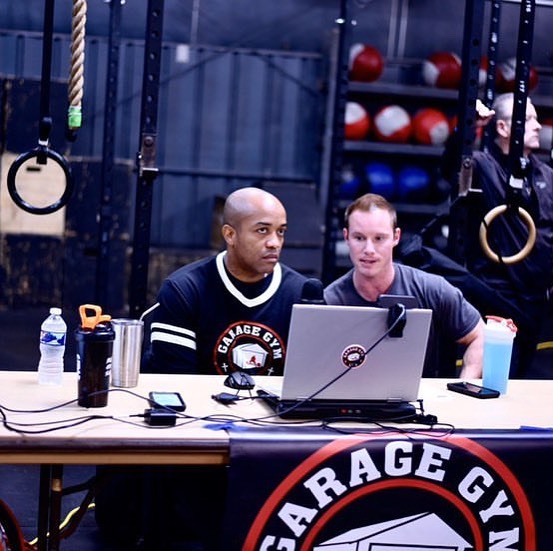 Powerlifting coach Dave Spitowski sitting in with Garage Gym Life Media during USPA Dirty South Championships
The USPA Dirty South Powerlifting Championship was a great way to close out the 2019 competition season! It was a qualifier for the 2020 National Powerlifting, Benchpress, Deadlift Championship for any lifter who finished with a Class 1 total, the 2020 North American Powerlifting, Benchpress, Deadlift Championship for any lifter who finished with a Class 1 total. and the 2020 IPL World Powerlifting, Benchpress, Deadlift Championship for any lifter who finished with a Master level total. I'm proud that in our first year of providing livestream coverage, we've covered Armlifting, Strongman (both United States Strongman and Strongman Corporation) and Powerlifting in three states and next year looks to be even brighter!
Brief Recap
Not only did we get to see some great lifting by first time lifter, Mike Marini, who went 365/192.5/300/857.5, but we also witnessed Craig Harris' comeback from a disc herniation to battle for second in the same weight class. Craig finished the day with 292.5/192.5/302.5/787.5 which is awesome after such a devastating injury which he told us left him unable to walk without assistance at first.
We were joined at the broadcast table by USPA State referee, Monique Hayes and of course, our very own Reggie Jiles, who did triple duty as
referee, announcer and color commentator during the breaks! IPL World record holder, Dave Spitowski, who coached Jared Griffin to 230/177.5/275/682.5 in the 90kg Open class that put him just behind class winner, Jordan Pleva but did give him a State record bench, also stopped by to give us an interview about his training and his fancy new home gym training facility.
Check out all of the meet results on the USPA website by clicking here for a .pdf download.
Lessons Learned
The Good
Every livestream is a learning experience and the USPA Dirty South Powerlifting Championship was no different. First, our set up

produced an extremely stable stream with no dropouts during the entire seven hour broadcast!  That's a tribute to the hard work by our engineer, Casey Hesse, as well as reinforcing the value of our scouting trips ahead of time.

We also finally figured out a set up strategy that minimized the number of times we had to ask people to move so they didn't block the camera!  That's a pretty big deal because we don't like interrupting people who are only trying to cheer on friends and family, but we also want our viewers to see all of the action.
Things We Will Change
We made the decision to drop out the background sound to avoid getting copyright claims on YouTube related to the music played over the PA system but that wasn't a good idea.  While it is annoying to have to battle copyright strikes on YouTube for having music playing during our coverage of a sporting event, having complete silence when we weren't talking seemed to degrade the experience for our viewers. I can't do anything about YouTube wanting to penalize us for something we can't control, strength sports have music playing during the event and our cameras pick that music up during broadcast, I'm not willing to make the video less enjoyable for our viewers so we'll just have to deal with red tape of the copyright strikes.
We're going to run commercials as picture in picture.  Strongman events and powerlifting meets have downtime. It's inevitable. That's when we typically run ads from our sponsors. But our viewers need to know that they're not missing any of the action, so going forward, we're going to run ads using picture in picture (like the NFL does during an injury timeout) so viewers can see that they're not missing any of the action.
I'm going to stock up on Vitamin C. I lost my voice for the first time in a looong time during this broadcast, so my son, who normally operates a camera, had to come on to close out the broadcast for me. I'm going to do a better job of taking care of my voice, getting enough rest and keeping my immune system strong so we don't have a repeat.
We need a table runner and our banner needs to hang behind us.
We need an easier way for potential livestream sponsors to pay for ad space and for event promoters to book us for their event. I'm hoping our new Booking widget solves the problem but if not, we'll keep looking for a solution.
How to Watch the USPA Dirty South Powerlifting Championship
Check out the livestream replay, complete with timestamps below.
[embedyt] https://www.youtube.com/watch?v=6-x6lkqY3G8[/embedyt]