You have a Muay Thai background, Muay Thai is really big in the Netherlands, I still remember watching Peter Aerts dominating in K1. And of course, we can't forget Bas Rutten! How did you get into it?
I followed the sport since early 1995 I believe when Peter Aerts and Ernesto Hoost ruled the K1.
I remember playing as Ernesto Hoost in the old K1 video game!
I myself started late 2011 somewhere with kickboxing. After my son, Colin, was born in February 2008, my strength training came to a dead end and I put on some weight, ha ha! That is when I picked up kickboxing in combination with strength and conditioning because I wanted to get fit and strong again.
Through some connections I even had the opportunity to train several times with the current Glory world heavyweight champion Rico Verhoeven!
You had a shoulder injury that took you away from kickboxing for a while what happened and have you gone back to training?
The combination of kickboxing and strength training took its toll over the years. Little aches got chronic because I trained through it and did not deload. I did not listen to my body as I got older. It was a painful but needed lesson. It took me 1.5 years to get back to where I was with strength training and I have stopped kickboxing and have focused on powerlifting.
Your son, Colin, is a martial artist as well, I know that's special, having martial arts in common can bond parents and their kids together because you speak a common language. He did his first kickboxing class in 2013, how long has he been interested in martial arts?
Colin! My pride and joy— first of all, Colin is autistic and has ADD (Attention Deficit Disorder).
It is hard for him to keep focus and interest and from the very beginning of school he had low self-esteem. So at age 6 we started with judo. He did judo for about three years but the matches broke him up and the pressure was too great for him. He no longer had fun with it. Then we suggested kickboxing but just training and no matches. He had a lot of fun there in the beginning and made nice progress but when the training sessions became more serious and the trainer got stricter, Colin took it too personally. He thought the trainer did not like him, but that was his interpretation and unfortunately he recently decided to quit kickboxing and we are now looking for what fits better. Maybe he wants to do strength training in the future!
It's good that you're so active because at least he sees how many choices there are available for him. Speaking of active, now you're an obstacle course racer; what attracted you to OCR?
You're quite right. A good example is important.
When I started kickboxing I started running as well. I had bad conditioning and wanted to jack it up for my kickboxing. I live close to the edge of the forest and I like to run in the woods and go outdoors and 2015 I ran my first half marathon. But just running alone became a little too boring so for the variety and more challenge I started doing obstacle runs, but purely recreational.
How many races have you run?
I run an average of three or four obstacle runs per season I think. So I am now on about twenty runs or something. And for the past two years, we also do family obstacle runs together.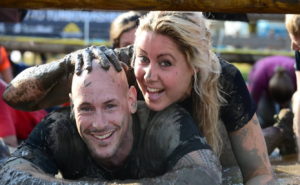 Colin likes that very much.
Maybe he will make OCR his new focus. I know that certain OCR organizations have events for kids so it would be good for him because there's a low pressure environment at most of the events I see for the kids.
Yes that is true. There is less pressure here and you are actually just playing outside! I hope to continue doing this for a long time with the three of us!
Goal setting is important to progress as an athlete; what are your favorite accomplishments in kickboxing and OCR and what are your current goals?
I only started boxing when I was 34 years old. And that was recreational to become fitter.
My favorite accomplishment was to stand my ground against those younger guys who are in their early twenties ha ha!
For now, my goals are to stay fit and injury free. I want to become stronger and better at the main lifts in powerlifting and I want to be able to run a 19k obstacle run at any time. That is all round fit for me!
I agree 100%! It's not what I can train to peak and do a couple of times a year, I'm trying to raise my walking around, every day strength and conditioning level. Like last week as we're doing this, I deadlifted 500lbs x 9. It wasn't in the plan; I just wanted to see where I was. The next day, circumstances called for me to have to walk six miles unexpectedly. I was wearing jeans and casual shoes, because it was unplanned but I was able to do it. Last year, I couldn't have done that so I know that I'm getting in better shape.
You just have to have a certain mindset. Many people still see sports as having "to do" while you should actually be grateful that you "can" exercise. A close friend of mine has had a heart attack recently with 40 years old and now has to rehabilitate for a long time. That is why I try to be grateful for every training session, good or bad.
How have you tested yourself recently, even unexpectedly outside of the gym and competitions?
I have not really tested myself lately, haha, but I have been on holiday to Greece 2 weeks ago and unknowingly have walked an average of 6 to 7 km per day with a peak of 10 km on a day if you count that.
Definitely counts! What are your best lifts in your garage?
I have not tested 1rm for a while if that is what you mean but with my bench press I'm about 130kg/286 pounds, my squat is about 150kg/330 pounds and my deadlift is about 188kg/414 pounds.
I don't think testing your 1RM is as important as many people think. Especially for someone like you who focuses on endurance type competitions. Like we said, it's more important to raise your level of fitness every year for as long as you can.
Since the beginning of this year I am being coached by former Dutch powerlifting champion (-66kg) Lorenzo Haarlo (@lorenzohaarlo). So I hope to break some PRs before the end of the year.
Are your planned PRs for 1RM or are you going to see what your highest double or triple is?
At the moment my coach has set up my training schedule in such a way that I train my compound lifts in cluster sets. That means a maximum of 1 to 2 repetitions with 60 to 90 seconds of rest and the number of sets varying from 6 to 12 sets. And every training we weight up and we see where we stand.
Your girlfriend, Chantal, is into OCR as well, is that how you met?
Chantal and I got to know each other on Facebook in a private group for single obstacle runners indeed! It is great to find someone who shares your passion for strength training, obstacle running and good nutrition.
I have to say, she's pretty awesome.
Yes, she is awesome! And definitely my better half.
I still remember when she contacted me to try to get one of our banners for your birthday last year; I thought that was so cool! And that led to my mom and I calling you for your birthday, you should have seen your face when you saw us on the Messenger video chat!
Your call for my birthday was a big surprise! I don't get a call from the USA every day.
I always enjoy meeting people who support our family's dream especially since I could tell how important this was to you and Chantal. Made my mom and I feel pretty good to talk to you guys.
That was very thoughtful of you John!
You recently began a personal training course. Do you intend to make this a profession or did you just want to expand your knowledge of fitness?
I recently started the Bayesian Bodybuilding PT course and I do it for myself in the first instance to expand my knowledge in the field of training, nutrition and lifestyle so I can program my own training and nutrition in the future.  I have already regularly helped friends and colleagues with nutrition and training schedules. In the future I want to offer online coaching as a profession to start with and with Chantal as a physiotherapist at my side, we will see what the future holds for us. Always useful to have diplomas!
You've gotten leaner since turning 40, I know Chantal is also an exercise professional, did she crack the whip and throw away your snacks?
Ha, ha, ha! Yes, I have indeed become a bit leaner since Chantal came into my life. But we love a lot of good food too. We are team #allyoucaneat! But all jokes aside, Chantal and I both have a diet schedule made. Chantal can cook well and during the week we prep our food. In the weekend we are more flexible. It is nice to have someone with the same mindset as yourself. Everything in balance!
I think the first time I saw you, you were doing farmers carries after work in an Instagram video. Besides your OCR training, how much do you train outdoors versus in your garage?
On the weekend, usually on Sundays, we change between running and cycling if we do not do an obstacle run in the summer months.
I do strength training four times during the week.
Do you do specific training for obstacle course racing like bucket carries or log carries?
No, I do not train specifically for the obstacle runs. If I go running, that is a maximum of 10km. My current strength and condition is sufficient to finish a 19k run. And as I said, Chantal and I run the obstacle runs in a recreational way and we especially want to have fun. We do not have to finish for a certain period of time.
How much grip training do you do?
I do not train specifically for grip. For myself, deadlifts and pull ups are sufficient enough for good grip strength. A good addition would possibly be loaded carries and kettlebell swings if you want to focus even more on that.
Do you have a particular organization you like to compete in or do you just pick competitions by what's close by and affordable?
In the Netherlands Strong Viking and Mud Masters and ofcourse the Spartan race are the three largest organizations that I like to participate in. Fortunately, these also organize local events. In addition, the Netherlands is not large and the travel distances are no more than two hours so that is good to do. Tickets can be pricey so I often look at ticketswap to get some cheaper tickets. Especially last minute because people often drop out prematurely due to injury or other circumstances.
What advice would you give someone who is interested in trying obstacle course racing?
Good obstacle run shoes !! I still see many beginners every event running on their normal running shoes. A good obstacle run shoes give so much more benefit. So if you plan to do multiple runs, obstacle run shoes are a good investment. And depending on the distance you are going to run, a good basic condition is a requirement ofcourse. Some training in the field of running condition is important.
What's one thing that you did when you first tried obstacle course racing that you would not do now that you have more experience?
In one of the first times I participated I did not have a long tight and I had short socks. With the climbing hanging from a horizontal rope I burned my Achilles heel / calf with dragging on the rope. The next race I have adapted my technique and wear from now on either long tights or long socks for protection.
I know I saw people with knee and elbow pads at the race that my wife and I did. Do you have any special equipment that you like to use in races?
No, I do not use any special equipment. Except for my shoes. If you have to crawl through the mud with lots of stones and pebbles, knee and elbow pads can indeed offer protection. But my experience is that they are filling up with water and only getting heavier and that's why I do not use them.
Describe your garage gym set up. You've got some nice brick in there. Is the garage attached to your house?
I have a small detached garage of 3×5 meters. Not a lot of space but for now it is sufficient. We have plans to move in the future so a larger garage is very welcome ha-ha.
You can get a lot done in a small space if you plan your training correctly. What are the pieces of equipment you have?
I have a squat rack, pull up bar, dipping rack, a number of 30mm bars with a total weight of ±265kg (584lbs) plates, farmers walk bars, a sled pull, a few  dumbbells of 20, 25 and 30kg, a 20kg kettlebell, pull up rings, landmine press and an old Kettler brand bench which I use for leg curls and leg extensions.
What would you like to purchase next?
Next thing on my list is a 50mm 44lbs Olympic barbell with and associated bumper plates. And if we have moved to a new house with a larger garage, I want a power rack ha, ha!
In America, Craigslist is where most home gym owners get the majority of their used weight plates and equipment. Do you buy used equipment and where do you like to shop for bargains?
I mostly buy used equipment. In the Netherlands we have a website called "Marktplaats" (marketplace) where I search for bargains.  It is comparable like Craigslist.
You can keep up with Tim and Chantal's training by following these links: