Yolanda Presswood will not be silent or ignored. Don't like her revealing photos or aggressive stance on veganism? Well get over it! This fan of Wu-Tang, powerlifting and her husband, Steven, is unapologetic about living wholeheartedly. She's a USPA M1 State and American record holder, ISSA Fitness Facilitator Nutrition Specialist, online nutrition coach and an INSPIRE International Publications Freelance Model. Read on to see how her garage gym is helping Yolanda Presswood thrive as an athlete/model, wife and mother in her forties!
Congratulations on being with your husband for over twenty years! Having been married for fourteen years I know how big an accomplishment that is.
Thank you! I've loved my hubbs since I was 15 and we married when I was 19.  We have been together my entire adult life! We are best friends first. We are partners in life. We respect each other as individuals and we are deeply, deeply intertwined as a unified couple. Many people don't understand that.
Besides enjoying time together in general, do both of you train in your garage gym?
Yes! Steven's passion is Olympic lifting. He taught himself over a three year period. Once the gym here is finished and equipped for Oly lifting he will get certified to coach.
Did you start your gym in the garage or did you train inside the house first?
I was raised on health and fitness. I always exercised one way or the other in the house. That said, I did not start lifing until July 2012. Prior to this we did the OG P90X but I skipped the lifting portion. More on that later.
Beachbody doesn't get enough credit for starting so many people back on the path to fitness. My wife has a rotation of Beachbody programs that she cycles through and I still use some of the abdominal programs when I want to turn my brain off and just do an ab routine.
P90X – I was afraid of looking manly if I lifted weights. The cardio high is also what keeps the demons at bay. I hadn't yet realized that lifting would transform me the way it did/has.
When we first connected on Instagram you said that you guys were in the process of building your garage gym. What brand of squat stands do you have?
Our squat rack currently is a Rogue. We started building the garage gym back in 2013. At that time I was training for my first bikini competition. Hubbs was learning Oly. I trained at a commercial gym predominantly but it did not suffice for Steven. He bought a proper Oly bar and some Pendlay no bounce bumpers and so it began.
Why did you decide on squat stands rather than a full rack?
I did not start powerlifting until October 2016. The stand works just fine for everything and then some.
Since I started doing old time lifts like Steinborn Lifts, I've started to liberate myself from the need for safety bars all of the time. Interestingly enough, I usually only miss lifts inside the rack, probably because I'm a little more daring with the safeties there. Obviously the goal is to not miss lifts in training. But occasionally it happens. How do you handle missed lifts? Do you call it a day if you can tell that it's not there on the un-rack or do you just dump the bar if you get stuck since you're using bumpers?
I was training in a Crossfit gym prior so no safety bars there. I have only had to bail a lift maybe once or twice since powerlifting to be honest. I prefer safety straps to bars. IF I miss a lift I either attempt it again if its a single or take the reps I completed and move on. There's a lot of outside factors when your'e not ONLY training. Even as a full time athlete, I still have many other obligations. Sleep, hydration, nutrition and stress can all lead to a bad lifting session. Like I always say, those days keep us humble and hungry.
It's interesting that you said that the commercial gym didn't meet your husband's needs. It's easy to forget that commercial gyms aren't often welcoming to anyone who trains outside of the "mainstream". Even with the growing popularity of Olympic lifting, all it takes is one dropped bar to have the front desk guy come and ask you to take your training elsewhere. Was that what happened to Steven or did he decide to not even take the risk?
It was the bars, hex plates and bro vibe.
Well, that's not something either of you have to deal with anymore! You know, one thing that usually doesn't get much attention in the home gym lifestyle is sound. I heard you bumping Public Enemy earlier today as I put these questions together, what brand of speakers do you have?
Music is EVERYTHING! Especially to the creative mind. I was raised on Public Enemy, Too Short, EZ, Erik B and Rakim, NWA, Pete Rock and CL and all that amazingness from the late 80's early 90's… Movement is also everything. Girl's gotta groove. There's not much substitution for lyrical dopeness these days unless you go underground to the hoods of Chicago and DC etc. Right now I just have a Samsung soundbar! It works great!
I heard that! Anybody who benches to Wu-Tang knows what real hip hop is! Back to gym equipment. What other pieces of equipment do you have and what do you plan to add next?
Oh goodness, we have a bunch of toys. One big piece we have was gifted to us by a woman who was lifting back in the 80's. The "Goliath" aka the Vectra system. I can do every kind of exercise on that thing and also get creative. We've also got a big tire, battle ropes, plyo box, pull up bar, rings, prowler sled, pull sled,dumbbells, kettlebells, resistance bands,cones,slam balls, medicine balls/wall balls, a treadmill, an independent stepmill, various bars including an EZ bar, sand bags, speed bag (the kind for track).
Your fitness journey includes competing in bikini, bodybuilding and CrossFit before you found powerlifting. What did you enjoy about each aspect of fitness that you've competed in? How did each prepare you for what you're doing now?
Bodybuilding gave me a great base for anything. Powerlifting really isn't much different from bodybuilding. I left strictly bodybuilding because I knew there was much more my machine (body) was capable of and I got bored with doing the same movements over and over. That's why I switched to Crossfit. Crossfit is everything. There's nothing I suck at. So it suited me well.
Dave Tate said, "Once you get to the accessory lifts it's all bodybuilding". Although you no longer compete in either, do you still use bodybuilding training and CrossFit WODs along with your powerlifting training?
I agree! It's all strength based really. I mean, you're always building muscle and trying to get stronger. When I'm deep in meet prep I dont veer from programming. Otherwise I train however I feel on any given day after I do my main lifts. I'm not an endurance athlete and having left Crossfit my conditioning sucks! 2018 I have purposed to get that back. Look out!
What are your career highlights so far?
Career highlights… Setting records, squatting over 300# and standing on the podium in between a 22 and 26 year old as a 41 year old natty af vegan.
What are your short term goals in powerlifting? GET STRONGER AND STAY HEALTHY!
As a vegan, you said that you don't use any animal products including clothing . . .
No, veganism is not contributing to the suffering of animal lives. Which means, in what we wear, put on our skin and in our bodies etc.
So what brand of belt did you end up getting for powerlifting and how long did it take to find a belt without leather in it?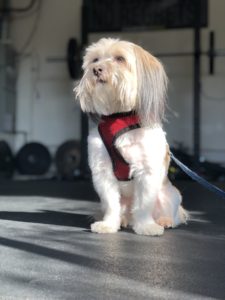 Strength Shop! I have two 13mm lever belts and Steven has a single prong by Strength Shop as well. My whole house is vegan. Even the dog. With so many people waking up to the atrocities that animals suffer at the hands of humanity every day. There are more and more companies offering non-animal gear. It's awesome!
You train five days a week. Break down your training split.
In powerlifting meet prep I train five days. Currently my average is three days.
M-F Squat and legs+butt stuff, T-Sat bench and upper, Wed we deadlift and legs and more butt stuff, Thur-Sun we rest.
Focusing on the power lifts can play havoc with mobility. It's worse when powerlifters equate fascia tightness with strength. As a person focused on health, how do you balance training to improve the platform lifts while maintaining normal human movement function and healthy joints?
I have a couple of therapists in my bag of tricks. I do mobility as part of my warm up. Getting back to doing things like trail running will also aid in this with blood flow and movement. As a powerlifter I don't want to be hypermobile. Hydration and nutrition also play a key role in maintaining healthy joints.
Prior to powerlifting I was doing Crossfit and within that I was doing everything from track to beach WODs. In fact, I aspired to join the Masters women's track team at the local community college in 2014. While Crossfitting there was always extra training before or after. Go until I can go no more. I honestly eat intuitively. I'm also conscious about my food choices. Meaning, I've tracked food for so long I know what works for my body and what doesn't. I'm also medically gluten free for the past seven years.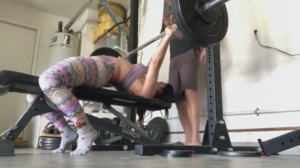 I eat tons of micronutrient dense whole foods and a fair amount of treat foods like french fries and chocolate ha ha! I run best on carbs. If I just have protein, I'm starving within an hour. My body burns through energy really quickly.
I eat pancakes almost everyday with strawberries, maple syrup and a veggie sausage. Or a Tofu scramble with spinach and gluten free toast. Protein bars or cookies (munkpak). I don't eat tons of fruit or grains as my body just doesn't process these well. If I do eat grains like rice I prefer white rice. I don't demonize plant foods. I eat what my body wants. Sometimes that's a bowl of ice cream with peanut butter and sometimes that's an apple with almond butter. I love this quinoa pasta I have with kale pesto and beyond meat chickenless pea protein strips. I have a protein shake if I feel like it. There's so many ways to veganize anything.
Iron for the Soul
A popular Internet meme says, "Sometimes it's not about lifting weights; sometimes it's just therapy". That's probably more true for you than most because you deal with PTSD every day. That affects everything including your ability to drive far away and deal with crowds. Is competing in powerlifting therapeutic for you— every meet you finish another victory?
Training in itself has always been therapy. One reason this year I purpose to get back to trails and such is because powerlifting does not help ME in this way. If my mental health is not in a good place, depending on which disorder we're speaking of, I can't lift 2-3x my bodyweight effectively. Then it becomes part of my problem not the solution.
Last year when the panic disorder was at its worst, elevated heart rate and heat became triggers. Before powerlifting, expelling negative energy or pent up energy was left on the trails. I can't stress enough the importance of getting back to this for me this year. Meets are not simple at all. PTSD is no joke but I will never let it rule me!
I think you said that light is a factor as well as seasonal changes. How have you set up your garage gym to optimize the training environment? Did you paint the walls light colors, do you train with the garage doors open to let in fresh air and sunlight?
I prefer natural sunlight. I open both garage doors considering its not ridiculously hot! In the summer I train early and I do open the side door even if its in intervals. The walls are white! White walls equal no imperfections to my brain. I may try and have a mural put on however.
Your attitude towards life makes me want to call you YOLO. It's really cool how your stepping forward to experience life now. Too many people our age are throwing in the towel when at forty you have potentially another forty plus years to live!
HAHA I have a couple friends who call me YOLO. My life's story is a long one. I'm an abuse survivor. My first trauma was at the age of 5. Sexual, emotional, verbal and physical abuse survivor. My childhood/adolescence was nothing short of traumatic. It took me until I was 32 to begin to get free. Jesus is the ONLY reason I'm even alive to be sharing this life with the world is because He saved me from the darkness. By all human standards, I should not be alive. Right around age 38 is when I started really emerging. Those of us in our 40's are still so very young. We've definitely got time to make an impact.
In the excellent movie, Bending Steel, performing strongman, Chris "Wonder" Schoek" uses hand drawn images of crowds to help him overcome his introverted nature and prepare to perform onstage. What tricks have you come up with to help you be your best on meet day?
Honestly, it's not something I've mastered ha ha! Ive been living with mental illness since I was a little girl. It emerged fully when I was 16 years old. I have some homeopathic tablets I take for stage fright. I'm new to powerlifting so I'm still learning. What I learned from my last meet is getting there and getting warmed up slowly is my best bet!
How does your garage gym help you deal with your life challenges?
It's MY space. There's no negativity there. There's no male dominance. As a homeschooling mother, it's actually not as easy as one would think. Sometimes I want to leave the house. Other times it's amazing being able to step outside that garage door and get work done while being available to everyone also. L.I.F.E
Coaching
How long have you been doing online nutrition coaching?
I started science based nutrition coaching in 2014.
Who would be your ideal client? I know that you're a vegan but do you handle macros for omnivorous clients as well?
I do coach omnivores. My ideal client is anyone who has a goal in mind and is willing to stay consistent and put in work.
My nutrition coaching clients usually need assistance with adopting a healthy relationship with food. I'm super passionate about liberating individuals to just eating intuitively. Viewing food as fuel and also as fun. That no food is "bad" or "good" and dispelling all the diet culture bs.
Nothing wrong with wanting to change your outer shell by way of nutrition, there's just a way to do it that's both helpful and maintainable.
You also offer a one-time meal plan that's good for six weeks. Do you find people coming back after the six weeks to get longer term coaching?
My goal with clients is to facilitate. I give them as much empowering information and help as I can for as long as they're with me so that they can continue on by themselves with knowledge and power.
Do you encourage your clients to give veganism a try? It's likely that they know your position on consuming animal products when they meet you so it seems they would expect the topic to come up.
Most of my clients are vegan or transitioning by choice to veganism. I lead by example. I don't create meal plans with animal flesh or secretions on them if I have an omnivore client. I give specifics as far as macronutrients and let them fill that part in. I encourage everyone to eat more plants. Our society is so fixed on meat meat meat and theres little to no micro-nutrients there. Plants heal. Plants are jam packed with life giving micro-nutrients our bodies need more of.
Are your clients primarily others who train at home or do you have a mix of home gym owners and commercial gym members?
Most of my clients train in a gym.
I asked that because you have a secret Facebook group for group training and home gym owners tend to be introverted to some degree. Regardless how do you encourage discussion and knowledge sharing among complete strangers without making people feel uncomfortable?
I'm a true introvert. Meaning, I am a social butterfly. Having panic disorder and sensory disorder makes things a little tricky but connecting with others and encouraging and speaking is a huge passion of mine. At the end of the day it's exhausting and I need retreat.
With me, it's easy because I keep things real 100% of the time. I don't have agendas with people in terms of coaching. I'm 100% authentic and I encourage authenticity of self. I say things people think but are too afraid to voice. This gives others permission to do the same.
You are slowly taking over the Internet and I want to help! Where can people contact you if they'd like to hire you as a coach?
Currently they can find me at Elevatedfitness.net
I'm working on launching the new site! And also will be getting certified to coach powerlifting!
How about social media? Where can people go to follow your training?
IG- @yolandapresswood
Facebook- Yolanda Presswood
Twitter- @FitVeganChick
YouTube- Yolanda Presswood