We discovered PRess It Wrist Wraps last year on Instagram when we were considering expanding what we offer in the Garage Gym Life online apparel store. Although we eventually decided to go in a different direction, I was really impressed with Rachel Baird, owner of PRess It Wrist Wraps. It didn't hurt that her husband is a fellow Marine who happened to be stationed at Ft. Sill, OK where I went to artillery school! I knew I had to get an interview on this startup and that our roving correspondent, Marisol Swords, was the perfect person for this assignment. Let's learn Rachel's story!
Why did you start Press It Wrist Wraps?
I enjoy sewing and lifting. This business combines the two and gives me a reason to go fabric shopping. I also really enjoy working from home and being able to add some to our budget.
You said that you discovered your love of sewing while your husband was on his first deployment. Unpack that story a little. Who introduced you to sewing and how did it grow from making wrist wraps for other members of your Crossfit box into a business?
Yes! My mom tried so hard to teach me to sew when I was a preteen. I hated it. I started getting into it again as an adult because I couldn't find a skirt I wanted. After making that with success, I kept going. I found I had a ton of time on my hands while he was deployed; sewing gave me a challenge while learning something new that could really benefit our family and others. The first pair of wrist wraps I made was for my husband. A friend at our box asked for a pair. I had an Etsy shop online of various sewing pieces. I added the photos of the wrist wraps and began selling them right away. They sold better than anything else on my shop. After a year of that trend, I decided to rebrand my online store to be solely wrist wraps!
What are some of the memorable designs you've done?
I know it's funny…but doughnuts! The pair with doughnuts has been one of my favorites. I also love a pair I used to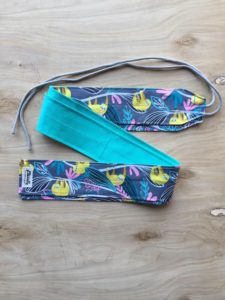 make that had stars on a field of blue for one wrap and a red and white stripe for the other wrap. That fabric went out of stock, but I recently found some similar fabrics so I hope to recreate that look soon.
I enjoy adding new prints to the shop because they appeal to different people. It's also nice to sew different prints rather than the same look each time.
Every business has that moment that lets you know that you've turned the corner; that this thing is going to work and you're on the right path. Describe that moment for you as owner of Press It Wrist Wraps.
I'm a military spouse. Shortly after rebranding online, we moved. Our household goods shipment got delayed multiple times. I had planned for a short delay and included my sewing machine in my personal vehicle. There we were in our new house with nothing; I was sewing while standing at our kitchen bar because we had no chairs. At that time, I knew I had been blessed with something good because despite our circumstances I was still able to take orders and continue working.
I believe Dave Tate said, "A successful entrepreneur is just one that didn't quit when things got hard." What motivates you to keep going in times of adversity?
I realize not everyone gets sore wrists. But if you do, that puts a major damper on lifting. I really enjoy knowing that my business is giving gym motivation and lifting support to someone working to better themselves. Encouraging people towards healthier lifestyles is motivating.
You offer free shipping across the United States. What led you to make that decision and do you think that is your Unique Value Proposition?
As a consumer, I love free shipping. I figured if I loved it, others would too! Yes, it does seem to separate me a little from others in my market.
What is the guiding principle that governs how PRess It Wrist Wraps does business each day?
I don't have a company motto. My shop details shipping times, available inventory, and return information like any other company. I work hard to fulfill everything I have promised. If someone orders a custom print for a pair of wrist wraps, I typically get that out the door within a week and half of their order. I make them as soon as the fabric shipment arrives from the fabric shop. If possible, I try to ship faster than what I have promised.
There are obviously some advantages of having a military connection. What are some disadvantages and how did you overcome them?
There are some disadvantages – like moving. I can build connections in an area then be relocated within a couple years. This is unfortunate for business that I do in person such as Crossfit Competitions. However, the flip side of this is that I get to meet more people in more places. It could help broaden my influence. I think looking for the best in any situation makes life happier.
You use a European design for your wrist wraps; they don't have Velcro, instead you secure them with paracord. Why did you choose to craft your products that way?
My husband and I each owned a pair of Velcro wraps. They were okay. When his wore out and he wanted another pair, we thought we'd try something different. We chose paracord for PRess It Wrist Wraps because it is so durable.
Durability is great for word of mouth advertising and bad for repeat business from the same customer. How do you get customers to come back to buy from you again?
While my product is durable, some become repeat customers to own another pair in a different print or to buy a pair as a personal handmade gift for their gym buddy.
What products do you offer?
My shop listings currently only include wrist wraps. Because I have more experience sewing, I am happy to consider other products. I have made cloth bags for organizing a gym bag, lifting straps, and wrist wraps with unique lengths.
I know that you work with Crossfit boxes both with bulk orders for boxes that intend to sell logo branded wristwraps in their at their box  and bulk orders for teams that need wristwraps for their members. So, what's your typical turnaround on larger custom orders?
I work with each gym individually to determine the turnaround time for a bulk order. This is dependent on other orders that are in process as well as quantity ordered in the bulk order itself. As a standard so far, I have been able to ship all bulk orders in under 30 days. This 30 days includes the time taken waiting for the fabric to reach me.
How fast could you fulfill an order for a business if they needed to replace a product for a customer for some reason?
If a product needs replaced, the wait time for the customer would be determined by the supplies I have in my inventory. I would happily work as quickly as possible to replace a missing or damaged item on a case by case basis.
As a military wife, you have to move every time your husband gets assigned to a new duty station, unless he does an unaccompanied tour. It would seem that you wouldn't have any issues since your sales are online but if you get stationed in a location with spotty Internet service, either overseas or Stateside, you're going to have challenges. What are some workarounds you've found to deal with those kinds of challenges?
Thankfully, this hasn't been an issue for me yet. I am not sure how it would affect my business. I have shipped to APO addresses multiple times. I assume that it would work about the same in reverse if I were shipping from an APO address. The ship times would likely take a little longer than they currently do. As for Internet, hopefully there'd be a coffee shop nearby!
You decided to sell primarily on Etsy although you also have a Facebook page. There's talk in some circles that the days of businesses having their own website are going away in favor of connecting with customers where they already gather. Talk about some differences in selling your products through Facebook as opposed to Etsy.
I have a Facebook and Instagram page set up to allow more consumers to find me. I currently only sell my products in person or on Etsy. My Facebook page redirects buyers straight to Etsy though I wouldn't be opposed to selling on Facebook if someone requested that.
I currently only list wristwraps on my shop. Etsy allows me to categorize my listings. I try to categorize the different prints in a way that makes sense and allows for easier navigation so that someone browsing might not be overwhelmed by the selection.
Do you plan to expand your sales to Instagram now that they give you the option to shop directly from posts?
I have not yet explored that feature. It is an excellent option. I would love to take advantage of that at some point.
Rachel, you seem to keep your business model fairly simple and straightforward. Are you surprised by your current success level even without the bells and whistles and fancy ad campaigns other companies use?
I do try to keep my business plan simple. I am not surprised that I have been able to have some success though I do not use fancy marketing. The Internet provides such a great platform to spread information. I hoped that by choosing a name like PRess It Wristwraps, people would easily recognize it, remember it, and stay motivated to grab their next PR! By sharing posts from those wearing PRess It Wrist Wraps and myself weightlifting, I hope to keep my business relatable and motivating.
A portion of your sales goes to the Navy and Marine Corps Relief Society. For the benefit of our readers who don't know about that organization, explain who they are and the vital role they play.
The NMCRS serves the military and their families in many different circumstances. The best synopsis is taken from their website, "The Society is there to help Sailors, Marines, and their families recover when the unexpected comes their way." They provide financial assistance and counseling, budgeting classes, and health education. Their services are extended not only to military personnel but also to surviving military spouses. We have personally seen the society aid in emergency travel expenses for a Marine who lost a family member unexpectedly.Their role and financial assistance can be quite critical for those in a time of need.
To place an order or for more information about her business; contact PRess It Wristwraps through the following links:
Email: mrsrachelbaird@gmail.com