DIY Bar Storage Rack
If you are like me, you have more room than you know what to do with in your garage gym or home gym (sarcasm). I had bars laying up against every corner or worse yet left on the floor only to have to move them so I could do the next set of something.  So in order to maximize space and stay organized, I built this storage rack with some scrap boards and PVC pipe.  Here is how you can build your own DIY Bar Storage Rack today (for less than $10):
Materials needed
4 @ 1x4x12.5 wood board (length may vary depending on how many bars you will want to store)
1 @ 2" PVC pipe x 1½" per Olympic bar
1 @ 1" PVC pipe x 1½" per standard bar
8 @ #6×1¼" drywall screws for rack
1 @ #6×1¼" drywall screws per bar
The Process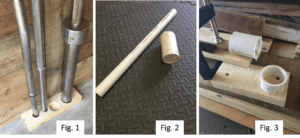 Build a base
I used two layers of 1x4x12.5".  You will want to determine the length you need based on the number of bars you have.  I have 2 @ 2" bars and 2 @ 1" bars.  Make sure you give yourself plenty of room between bars (consider the width of the collars).  Mine is a little tight.
Layout one of the boards and drill holes through using a paddle bit or hole saw
(See Fig.1). Use a bit that is 1/8" larger than the bar diameter of the bar (i.e. 2 1/8" for 2" bar).  You will be mounting clips to a back board in a later step.  The thickness of the board you use for this will matter when laying out your base board.  I used 1×4 for the back board so I moved the center line of the holes out ¾" to compensate.
Place the second board on the bottom of the first board and screw them together using #6×1 1/4" drywall screws. One in each corner should be fine.  Note: screw length should be based on board thickness you used.  This will complete your base.
Since I have the base on the floor, I chose not to permanently affix it to anything so I can move it out of the way to clear out dirt and spiders (it is a garage after all).
Build your clip system for holding the bars in place.
PVC pipe works great for this.  If you have 1" bars, use 1" PVC and if you have 2" bars, use 2" PVC (see Fig. 2).
Cut the PVC pipe to the desired length (1 – 1 ½") using a hacksaw (See Fig.3).
Cut a section of the PVC out which is wide enough that your bars will snap in but not too wide that they just fall out. I cut 7/8" section out of the 1" pipe and 1 ¾" section out of 2" pipe (See Fig. 4).  This is easier on 2" than 1" but not too difficult.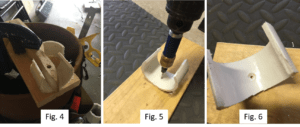 Drill and countersink a hole through your clip (See Figs. 5 and 6).
Determine the height to mount the clip based on the length of your bars. I have two 7' bars and two short bars so I needed to have clips at two different heights.
Cut a backboard to which you will mount your clips. Again, I used 1×4 and cut them to the same length as my base boards or 12 ½".
Screw or nail the back board(s) into the wall at the desired height (see Fig. 7). Make sure to hit a stud.
Screw your clip into the back board using a #6 drywall screw. Be careful not to screw down too tight or it could split your clip (see Fig. 8).
Put your bars in your new storage rack so you know where they are tomorrow when you throw that weight around!
Additional Cost Saving Idea
Just use scrap lumber and PVC for this project.  If you don't have any, check with a local plumber or property management place that may have some scrap pieces.