If you are tired of the typical particle board pegboards, or simply need to rethink your current storage options, Wall Control offers an attractive and functional option for the equipment heavy garage gym athlete, though you are going to pay for it.
Background
The first thing EVERYONE says when they walk into my gym, is "Wow, everything is so organized". I'd potentially be upset if I didn't take that as a huge compliment. Organization is both a nature and nurture trait for me. My parents were big time organization fanatics, and in my professional life I spend most of my time organizing processes and people. So when I first started my garage gym, the idea of maximizing my space through efficient organization wasn't even a question. When I went through my most recent total overhaul, reorganization, and remodel, I wanted to dump the various hooks, particle board peg boards, nails, tacks, and screws that had been holding up everything for the past 4 years and make my way into the big boy's organization club for a consolidated pegboard option.
Wall Control
There are a few metal pegboard options out there, but Wall Control (if not the first) is certainly the biggest. With the largest selection of accessories, the cleanest website, and the most options for boards available (that I found at least), they were a no brainer for me towards my upgrade. They offer plenty of color options, both for the boards themselves and the accessories. They also support "normal" pegboard attachments, which is a huge plus for those of us not looking to simply trash the 100s of hooks we already have. I ordered two boards from Amazon, and then two boards with accessories from WallControl's website. I found that boards are cheaper from Amazon (after codes), but accessories are cheaper from Wall Control. To get free shipping from Wall Control, I split the order. Not sure if this was the best route, but it worked. I believe I saved money this way, both from the boards from Amazon, and off the attachments.
Ordering – Unpacking – Installation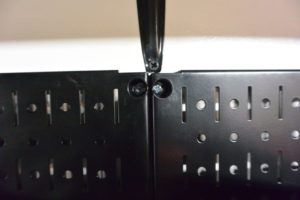 As I mentioned, I ordered from two places. Amazon was its normal two day (or less) turnaround. Wall Control took about a week. Not bad, but you get accustomed to that lightning speed of Amazon. The boxes and materials fit well, and everything was in perfect condition. No dents, dings or scratches. This made me happy, as I was buying these for as much an aesthetic reason as a functional one.
Installation was pretty easy, assuming you have a stud finder, drill, drill bits, level, etc. I was able to get all four boards into studs, with only missing ONE screw off the stud (I messed up my pilot hole, and drilled slightly to the left which screwed up trying to put the screw in place). That screw simply went into a drywall anchor (provided), no issues at all. The boards are relatively light, even though they are heavy duty, so installation by one person is certainly doable. Two would help make things go faster, but one is doable.
The boards are nice and clean and sharp. The accessories are heavy duty and work great. One set had a bit too much powder coat sprayed on and wouldn't fit into the board. I needed to file them down a bit to make it work, but I sent WallControl an email and my free replacements were in my hands within 48 hours. Their customer service, before my order, answered questions about hanging chains as well. That way, I knew my order would support my needs. I simply wasn't going to upgrade if it wasn't going to do EVERYTHING I needed it to.
So whether you are a current or future customer, they have your back with basic questions and concerns.
Function
As I mentioned, your normal pegboard hooks, as well as their accessories, fit perfectly well. In fact, the boards are so stable and tight fitting, the normal pegboard hooks are improved on this board compared to a normal board. Plus, no more holes getting warped or stretched out of place from heavy accessories.
Right now, I have over 150 pounds of stuff on ONE board. That's four screws into studs, on one board, holding probably 125+ pounds more than I'd ever trust to a normal pegboard of equal size. There is a small bow to the board where my heavy chains are, but as soon as I remove everything it goes back into place. No sign of wear or permanent bending or otherwise any damage that I'm concerned about. The accessories I purchased serve their purpose perfectly holding my heavy competition collars and other items. They fit rock solidly and hold everything in place. One thing to make sure you consider is weight capacity. I wish their site did a better job of noting this on the individual attachments, but I understand that with the wide assortment of items that could hang from these hooks, a specific weight isn't always the only concern. One of my attachments ended up getting a little warped due to the weight of my loadable mace. Not a long term issue as I bent it back, but I thought initially it would hold fine.
The board and hooks don't "feel" as heavy as I initially thought they would. For whatever reason, I half expected each board to weigh 20 pounds, and the hooks to weigh a pound a piece. This isn't the case, and oddly enough, doesn't seem to be necessary. As soon as the boards are on the wall, and the hooks are installed, you'll realize they are ready to rock. Again, there is such a thing as too much weight and with gym equipment you need to be careful. When in doubt, send them an email and ask.
Cost and Other Options
Let's get something straight. These are the upgraded, upgraded, upgraded model of your traditional pegboards. Because of that, they are costing you more money. The boards themselves, after buying several, are going to get you close to the $100 mark. Then the accessories REALLY add up fast, as you are spending $5-$10 per set of hooks. If you were starting from scratch and buying all from them, you could easily reach a $500 total for your wall storage needs. That's a lot of coin to drop on what could be a $50 or less investment. What this really comes down to is the desire for upgraded aesthetics and a rock solid storage solution that will hold everything. As I mentioned before, there are a few other companies offering metal pegboard solutions, but every other person I've seen with a metal pegboard in a gym has WallControl.
If I only had a few sets of bands, some knee sleeves, and a cable attachment or two, I'd stick with the normal cheapo pegboard from Home Depot or just make my own out of a sheet of plywood and some hooks. For my needs, with chains, heavy collars, MAG Grips, a full assortment of bands, and an ever expanding and adjusting assortment of extras, along with the want to have an aesthetically pleasing board that would give me the same function today as it will in 5 years without having to keep drilling and tacking and nailing new holes in the wall, the WallControl boards are an awesome option. I have zero regrets paying what I did for what I now have.
In short, if your gym organization needs an upgrade or you are going through a gym remodel, consider the WallControl units for an upgrade to your typical pegboard solution. It will cost you more out of pocket, but you'll be a lot happier with the final product.
Side Note – WallControl recently named my set-up as their Q1 2018 Winner for their giveaway contest. I received $100 off my next order which allowed me to replace my entire attachment set-up with WallControl attachments. However, this review was written and recorded BEFORE knowing this. So rest assured their generous nod towards my organization upgrade did not influence my review.