Who Is Jessie Hilgenberg?
Jessie Hilgenberg is basically a rock star. She is an IFBB Pro, an athlete for NLA For Her, as well as a BodyBuilding.Com athlete, she is the JESS in "Jessie's Girls", a mother of two girls, and a wife.
She has dedicated her life to empowering women around the globe to become their best self, and to love themselves and any stage of life! Through her accomplishments, and her programs she has built this amazing community and movement called "Jessie's Girls"!
What is "Jessie's Girls"?
"Jessie's Girls" is an online community, all brought together by one woman- Jessie Hilgenberg. Jessie started this community with writing four workout e-books while she was pregnant with her first daughter, showing that women can kick ass in the gym, be strong and that you don't have to starve yourself to do so.
Women were drawn to this lifestyle right away and started joining her movement. They quickly realized with her programs, that in order to grow muscles you need to eat all the food. To break the standard of how women should look, and how much they really should eat was intriguing women all over the globe. Jessie's Girls has grown to be over ten thousand women all over the world, with over eight thousand alone in the private Facebook group.
"Jessie's Girls has transformed my life. I was attracted to Jessie's because she preaches to the everyday girl who wants sustainability. She preaches eating food, loving your workout, and is on a mission to help more women feel strong inside and out. The program is highly effective, and I think 'once a Jessie's Girls always a Jessie's girl.' "– Morgan McNinch
Her programs include a Home Edition as well as:
All of these programs can be done at home with the right equipment!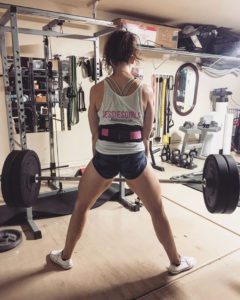 These programs are amazing because you can do them anywhere in the world. It is done all online, and at your own pace, in your own gym! All you have to do is follow the custom macros that Jessie helps you calculate and follow the cardio/strength training workout plan.  As you start to go through the programs you start to gain knowledge about nutrition, when to eat/how much to eat, and what it takes to build muscle.
"What I love about Jessie's Girls is she leaves you with a rockin' bod but also all the tools to educate yourself along the way. I have gained SO much knowledge about food and the gym that I know share with all my friends when I can. Jessie's Girls is a movement that I am very proud to be a part of."– Morgan McNinch
What It Takes
Any woman can become a Jessie's Girl. It doesn't matter what your fitness level is.  These programs are great for any level and will help you to progress wherever you are starting from!
To become a Jessie's Girls, you are only required to purchase one program. One program is $79.99, and your program will never expire! Once you purchase your program you can request to join the private Facebook group and the admin will add you in based on your order number.
You can join by purchasing a program at: JessieFitness.com/training-programs
"I signed up for a program, but I was welcomed into a community of women who love and encourage each other like we're sisters.  (I even call them my "JG sistas.") I thought I was trying a new program for twelve weeks…to lose some weight.  Instead, I became a strong, confident, and fit woman.  I became a Jessie's Girl for life."– Billy Jean Johnson
Community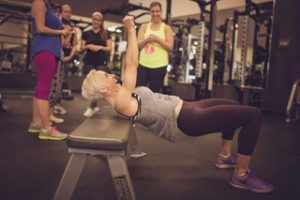 The Facebook group is a place where you can go when you're in need of support, motivation, recipes, if you have questions, anything. The group is extremely monitored by Jessie herself, as well as her fifteen Ambassadors to keep the group relevant, positive and to make sure that all questions get answered.
This group has brought me some amazing friends, who are like-minded and will always be there to support me; no matter what! People would say that the best part about these programs is that you get to be a part of this amazing online group filled with strong, motivating women.
"The Jessie's Girls community was more than I could have ever dreamed of, it's truly a special group. I've learned so much about self-love and being proud of where I am in my journey right now. Every single day I'm reminded why I love this group of women that Jessie has brought together. I see it in the Facebook group she's created and the posts on Instagram and I feel it when I get the chance to meet any Jessie's Girl in person. This is a positive group where we can be really, REAL and still support one another no matter what we're going through. We come from all over the world and yet we are still a close group. THIS is exactly the group of women I want to be a part of. These ladies empower me and motivate me in my workouts and in life outside the gym. That's right being a Jessie's Girl goes beyond the gym and the strength I've found has changed who I am in all facets of my life."– Christa Colton
Not only has she created this amazing online community, but Jessie holds multiple training camps throughout the year to get 30-40 girls together to learn all about her journey, macros/nutrition, how to lift with proper form, and then they all go out for a fun night and get to know each other even more. It is such an empowering weekend to be a part of, and you come out of it with a tremendous amount of knowledge, and an even bigger circle of friends!
"I have finally found my tribe! For over 30 years my health and fitness journey has been a solo one. A friend would join me for a class or two, but it was never a serious commitment. I've had to rely on my own determination to stay fit. At times I felt so isolated. What I have gained becoming a Jessie's Girl is a tribe of over 8,000 women of like mind who are so supportive of each other. I have also learned so much about how to fuel my body the correct way. No more yoyo dieting for me! I will be forever grateful to Jessie Hilgenberg for her programs and her genuine love for helping women to love their bodies, lift heavy, and not be afraid to eat all the food!"–CINDI AKRE
My Journey
After I had my second child, I tried all of the at home cardio DVD's but was seeing no change. I was just hungry, frustrated and ready for something different. I had this amazing home gym in my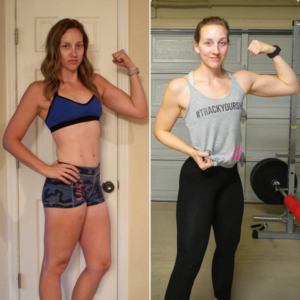 garage that my husband was using after work, and I decided it was time that I took advantage of it.
I purchased my first program from Jessie and it was her Muscle Building 2 (MB2) program. I had never really lifted before, but this program was awesome! It is all laid out for you in your program on how to calculate your macros, timing of meals around your workouts, which cardio option to do and when, and of course the strength training portion. Some of her programs even have a peak week at the end if you are interested in competing!
I have done all her programs (except the Prenatal Edition) and have loved every one of them. They have all been completed in my own garage gym with a squat rack, barbell/weights, cable system, dumbbells, bands, a bench, a plyo box, and a leg extension/curl bench!
I saw HUGE changes in my first round of doing her MB2 program, and I was instantly hooked. I had awesome physical changes, such as fat loss, muscle gains, and a complete change in body composition. In 2017 I competed in the Jessie's Girls 3k Challenge and won! From that challenge I was asked to become a Jessie's Girls Ambassador and I am loving every second of it!
At first you come to these programs for physical change, but what you don't realize that is during these programs and being a part of this community of strong women, is that you are learning self-love and how to love your body through ALL of the stages. I've come to find that self-love again within myself and have found a new passion for fitness that I have recently become a NASM Certified Personal Trainer.
If you're in need of a positive, uplifting community filled with strong, motivational women – then Jessie's Girls is the place for you and we would love to have you!
Lift heavy. Be strong as hell. Eat all the food.
Become a Jessie's Girl!
Want to read more from Nicole or follow her training?
IG: @NiicoleAmberr
Website/Blog: www.NicoleHunter.org
You can learn more about Jessie Hilgenberg and their community by using the links below:
Instagram: @Jessie_Hilgenberg
Website: www.jessiefitness.com
Training Programs: www.JessieFitness.com/training-programs