This Gray Area Where I Live
I exist in a gray area. I'm a gym rat. A garage gym rat in fact, with all due respect to Mike "Bird" Parrott.  Being a gym rat who trains at home means my peer group is sparsely populated.
See I'm not a top ranked strength athlete; enthroned in the top ten rankings of my chosen sport. Able to hang out with the others who occupy the higher end of the sport.
I'm also not a normal person. I've rejected average and the middle age slump that comes with it.  To top it off, I choose to train in my garage; usually alone with no music except the clang and bang of plates kissing each other as I use them to dance with gravity.
So I don't fit in. I don't fit in with regular people whose normal reaction if I tell them I hit a PR squat or deadlift is to either warn me against getting hurt or to bring up a false memory from high school about some long ago strength champion who somehow managed to outdo what today's champions achieve with pride under bright lights and strict judging.
I don't fit in with the strength athletes I admire and sometimes interview.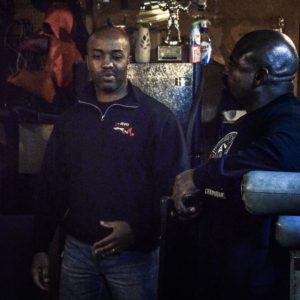 Yes, they're gracious and giving of their time, especially because I'm telling their story to the world for the magazine's readership; but we don't hang out. I mean for people to associate they have to have something in common.  I don't have stories about that time I broke the All Time World Record Total.  Or having to go somewhere to fulfill an obligation to my sponsor.  We're cool maybe, but not close friends. We have a mutually beneficial relationship like pilot fish cleaning parasites from the mouths of sharks. I get to tell their stories in exchange for a fee and they get their stories told so their legends grow. It's career symbiosis. But it's difficult to be friends with them.
So I don't fit in. I dwell in this gray area where I don't have people to share my triumphs and goals with. This gray zone where I hit a pr and instead of calling somebody; I hold it in. As an extroverted introvert; someone who engages in social activity but only with concentrated effort it suits me fine.
I'm content to lift in my silent cave
Pushing towards goals only I understand. Celebrating victories that matter only to me.
But every now and then I see someone else like me. Maybe I'm driving through a neighborhood and I see a weight set on the front porch.  Or I get together with others who live this garage gym lifestyle to train and for that brief hour to two hour period. Somebody else is there who understands.  And that's good too.
In case you're wondering, that's why I started Garage Gym Life.
To connect all of us who are citizens of the gray area. Whether we spell it gray, grey, gris, grau, grå, kijivu or серый.To make it possible for more of us to meet up and be around someone who understands even if it's only for an hour and a half.
And one day, when this community stretches around this planet and I see men and women in Garage Gym Life shirts for no other reason than it gives them a sense of pride to know that they dwell in this gray area by choice but they're not alone, when I go on Instagram and see videos of people who met through my efforts getting together to train. When people start saying Your House, Your Rules instead of Go Heavy or Go Home, I'll know I succeeded.  And that will be good too.