This year, we were invited by Riccardo Magni to livestream the Arnold Armlifting Championships at the 2019 Arnold Sports Festival. This was a litmus test for our growing media brand; a bad showing could break us. But I immediately agreed because I recognized what it could do for our company if we succeeded.
Background
My wife and I have been attending the Arnold since 2011. That trip was in itself a milestone. We didn't know anything about the Arnold; just that we wanted to go. So we got up at Oh dark bad idea o-clock and drove eight hours to Columbus. We drank too much Starbucks during trip, had to park in a bad area when we got there, walked around the Expo like shell shocked tourists, saw the Animal Cage (where my friend, Vinny Galanti was emceeing) met Mike O'Hearn, powerlifting legend Mike Bridges and Power, Rep Range, Shock creator, Eric Brosser (great experience) and Lou Ferrigno (Bad experience. He's a real jerk). After that we headed back to our car to take a nap before driving eight hours back to Georgia.
Fast forward to 2017, there was no Arnold Armlifting Championship yet, but Naomi and I were Arnold veterans. We'd been there multiple times as spectators and Naomi had seen Arnold every time except that first time in 2011. Our friends, Ryan di Pompeo and his then fiancee Julia, met us at The Cage and we hung out for a while, talking to a surprising number of people who recognized Garage Gym Life from Instagram.
Then Ryan said something in passing that lit a fire under me.
I Was So Happy That People Were Recognizing Me As I Walked By
When Ryan asked, "Hey John, did you guys get in on a press pass?" Of course, the answer was "No". But I immediately set a goal of going to the Arnold with press credentials one day.
One Year Later, We Were at the Arnold Sports Festival with Media Passes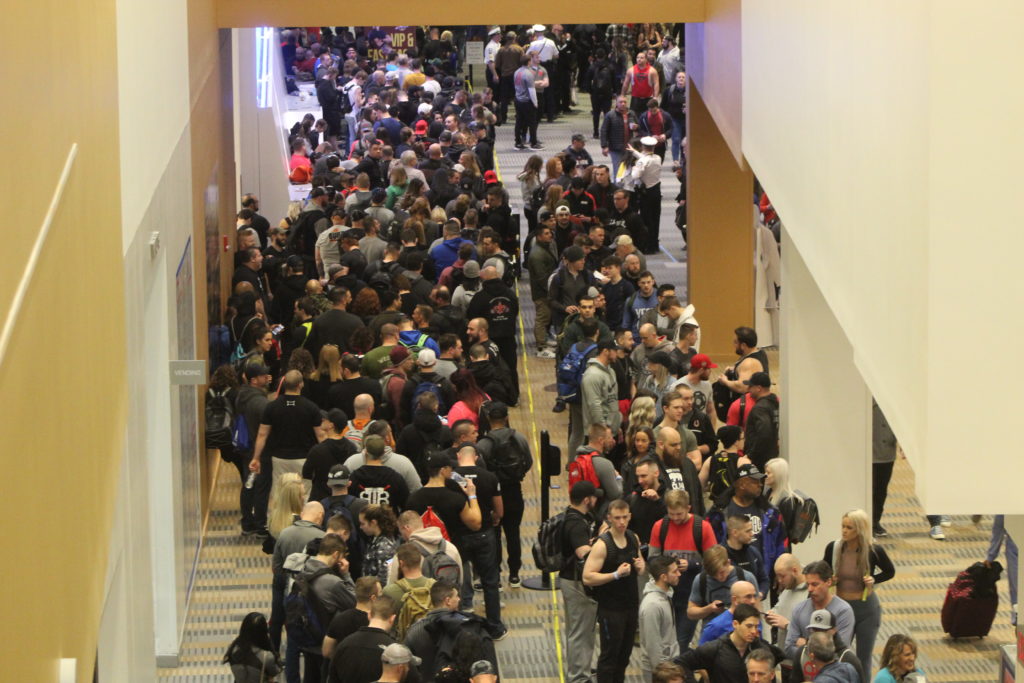 That's because we were there to as I said, live stream the Arnold Armlifting Championships. The experience of preparing to go up there was a whirlwind of trips to Best Buy to upgrade our camera equipment, emails back and forth with Clay Edgin, the event organizer and everyone associated with the Arnold.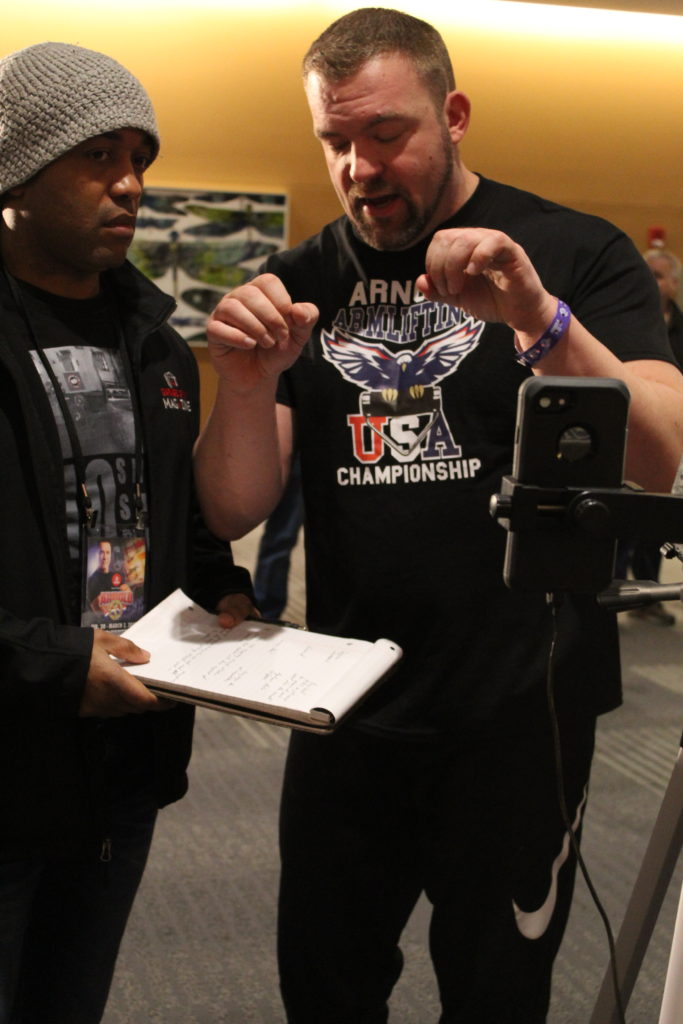 It Wasn't Completely Smooth Sailing
In fact, we quickly ran into a ton of issues, but just like when I was fighting or when I competed in powerlifting, overcoming those issues was a matter of having a Plan A, Plan B, Backup Plan and an Avenue of Exit. Simply put, things are going to go sideways, so you need to have a plan you can activate it and keep things moving along. But we were able to livestream most of the events, get interviews with athletes like Overall Women's champion, Lorna Paton from England, crowd favorite, Mervi Pekki from Finland, Lightweight Men's champion Tanner Merkle from Texas, armwrestling and armlifting champion, Eric Roussin from Canada and Garage Gym Life contributor, Riccardo Magni.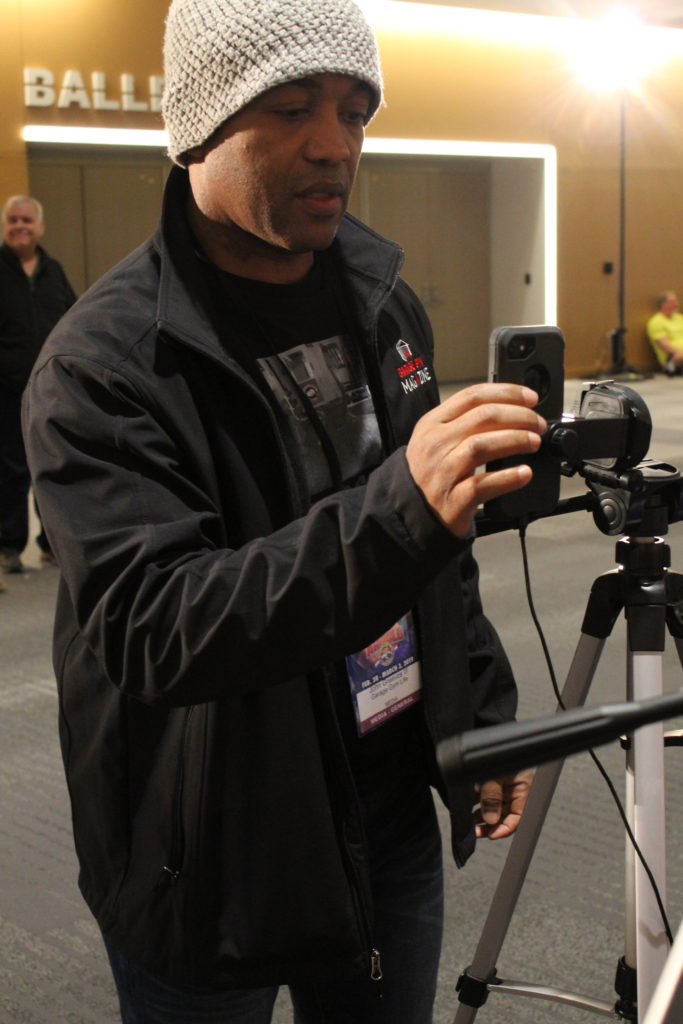 The biggest compliment to the effectiveness of this strategy was when Riccardo Magni remarked to me on Day 3, after our livestream to YouTube cut off in ten minutes into Day 1 of the Arnold Armlifting championships, our Instagram livestream cut off the end of Day 2's competition because we lost the connection to our paid WiFi, "You seem so calm, this has to be stressful but you're handling it like it's nothing!"
[embedyt] https://www.youtube.com/embed?listType=playlist&list=PLiIpkR7CltUY8IYhMj5qLX5eTFNpIl7Cm[/embedyt]
We got several compliments about our coverage and have been asked to return. Because of our press credentials, I was able to get into the Expo before the crowds were allowed in and interview several people who were on my target list. Garage Gym Life was recognized as a media brand by multiple companies in the fitness industry and we made solid contacts for the future.
All because of one comment made in passing. Choose wisely who you hang out with. Their words will affect your future.