@advenracerchick is Inda House! Marisol Inda is a true Renaissance woman. She's a career teaching professional, a competitive endurance sports athlete and a full time parent! With all of that you might wonder when she gets time to train!  As you're about to find out, she's able to juggle her work/life and fitness goals because of her ever evolving garage gym. Check out the story of this awesome lady who was the second person to share her Iron Journey with garagegymlife.net!
Marisol, I'm glad we were able to do this! I mentioned that you've got a number of different athletic interests. What sports do you compete in?
Competing in kayaking, cycling and running is what I am passionate about now. I want to do a powerlifting meet; that will be my next endeavor!
What's the biggest sporting event you've competed in?
The biggest sporting event I have competed in was the three half marathons I completed.
Marisol, you're a school teacher right? What grade do you teach? How long have you been teaching?
I am an English high-school teacher with 17 years in the profession!
17 years! That's awesome! And you're also a parent.  How many kids do you have?
I am a parent of three great kiddos. My son who was born with Cerebral Palsy is 17 and my angel.  I have twin daughters age 9 whom continually demonstrate what it means to have a beautiful heart.
You're juggling three kids and a teaching career? Wow! With the many things you're interested in, plus the responsibilities of being a parent and a teacher how does @advenracerchick maintain a balance?
Maintaining balance is so important in order to live a happy life.  It's critical to keep the body physically fit and to be that role model for your children.  Working out for me is my haven!
How long have you been training?  Where did you get your start?
I have been training since I was in high school where I lifted weights and competed in running.  Since I am now 43 that has been many years of physical fitness love!
Where do you normally train? I know you're about that garage gym lifestyle, where in your home is your gym?
I train in the good old garage and I love it!
Why does training at home appeal to you more than training in a commercial gym or even a CrossFit box?
The appeal of training at home versus a commercial gym or even at a CF box is TIME! I don't have to apologize or feel hurried to get off the squat racket any other apparatus.  All the equipment is ALL mine whenever I want it. Having that freedom allows for more intense and longer workouts if I want!
What about kayaking and cycling? I'm guessing the kayak doesn't fit in your bathtub (but if it does we want pics!) so are there waterways and riding trails near your home where you can train?
Living in Houston, Texas allows me to train for all my sports year round, although time adjustments have to be made in the summer because it gets so hot. I live close to the Gulf.  So hitting a bayou, lake or the ocean is not a problem. The bike trails are also amazing from novice to easy riding!
How has the garage gym evolved since you first started training at home?
Collecting equipment has been made easy with companies that are seeing the need for people to acquire quality gym material at a reasonable price point.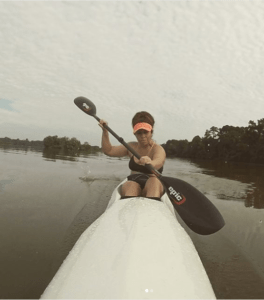 Where did you get your equipment, did you buy most of it or go the DIY route?
I have acquired most of my equipment from GetRX and some pieces have been ideas that have come to fruition through heading to Lowes!
What's your dream piece of equipment? The one thing that you don't have but you really want to get?
I dream about having a complete dumbbell and kettle bell set.
You're unusual in your love of strength training. Typically, endurance athletes tend to not enjoy strength training as much as their cardio sessions. Do the different types of training appeal to different parts of your personality?
I think it is imperative to implement strength training with all endurance type sports.  Lifting weights only aids in growth in the other sports.  My personality is one of wanting to try it all; I enjoy a challenge!
Some people find it difficult to train at home even with a partner. How do you stay motivated? Is there somebody who inspires you to train?
My sister, Marisa, is the person who inspires me.  She is a power lifter who holds world records and is very accomplished in her sport.  I have gone to see her compete and have been overwhelmed with emotion because I know the amount of training she has put in.  Her motivation and attitude are inspirational! But my motivation to keep on training is my pure love for being physically fit! Seeing growth and gains keeps me pumping the iron.
What advice would you give to someone who's thinking about starting a gym in their home?
My advice for anyone starting a home gym is to be patient! Collecting quality equipment takes time but the rewards at the end are well worth paying that membership fee at a commercial gym!
How can people follow your training or get in touch with you?
If anyone would like to follow my journey I am on Instagram @advenracerchick! I would love to connect with like-minded individuals!
Do you have anyone you want to thank before we sign off?
I would love to thank my sister for always being there for me and being my hero!
Thank you for taking time to talk to share your story with us!
Thank you for interviewing me!